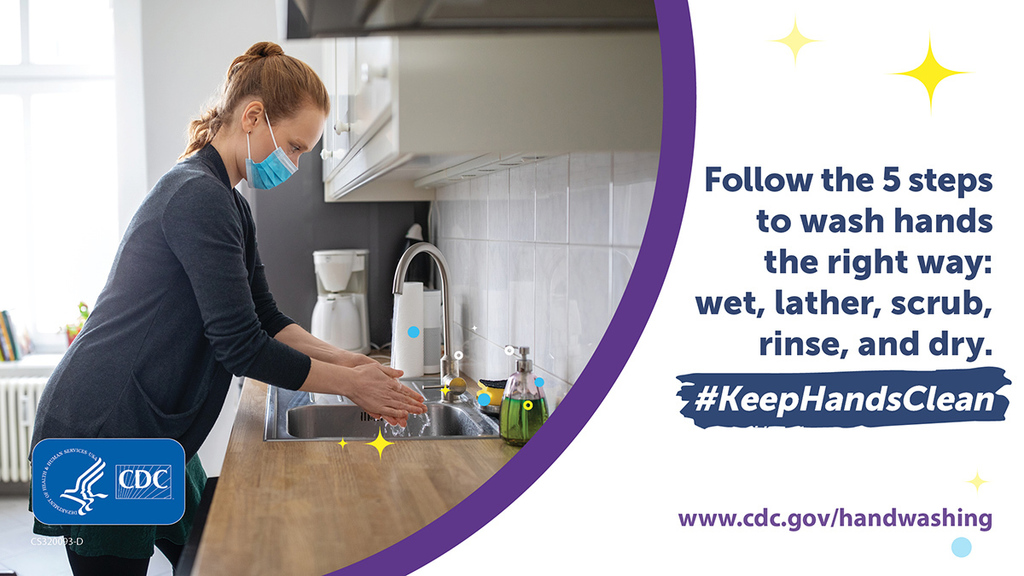 Before eating food at home or in public spaces, wash your hands with soap and water. It only takes 20 seconds and removes the germs from surfaces or objects you've touched
https://go.usa.gov/xV9TPexternal
icon #KeepHandsClean

Weekly HUSD COVID Update 11/18/20: COVID Data: Most up to date San Bernardino County COVID data is as follows: Adjusted new cases per 100,000 residents: 24.41* Overall testing positivity: 10.41%* HPI testing positivity aka "Health Equity Metric": 12.62% * *Note: Most recent data as of 11/9/20 Source: San Bernardino County Department of Public Health Current San Bernardino County tier assignment: 27.0 adjusted new cases per 100,000** 10.5% Overall positivity** 9.3% Health equity metric positivity** Tier = Purple **Note: 7-day average of the week ending on 11/10/20. Source: Ca Safer Economy Needed for next tier (Red) assignment: 2 consecutive week averages of 7 or fewer adjusted new San Bernardino County cases per 100,000 residents, 8% or lower overall positivity rate AND 8% or lower Ca Health Equity Metric positivity. Source: Ca Safer Economy Free COVID Testing: Community COVID-19 testing sites are being held throughout San Bernardino County. Samples will be collected using a swab in the nostril or in the mouth. These samples are then sent to a lab to test for the virus that causes COVID-19 (SARS‑CoV‑2 virus). There are 3 commonly used testing options: Option #1: San Bernardino County Public Health Testing Facilities: Click the link to make a free testing appointment:
https://sb.fulgentgenetics.com/appointment/screen/landing
You can easily make an appointment on your computer or phone! Walk-ins are also welcome! You do NOT need to have symptoms to test! You get texted/emailed the results in under 48 hours! Nearby locations: (Note: Click Here for exhaustive San Bernardino County list) Percy Bakker Center 9333 E Ave., Hesperia Monday – Friday from 9:30 a.m. – 5 p.m. Victor Valley College 71 Mojave Fish Hatchery Rd., Victorville Monday – Friday from 9:30 a.m. – 5 p.m. Every Saturday through November 21 from 9:30 a.m. – 5 p.m. Option #2: CVS Testing Facilities: You can easily make an appointment on your computer or phone! No walk-ins! Generally, you MUST have symptoms to test! Click the link to schedule a CVS test:
https://www.cvs.com/minuteclinic/covid-19-testing?icid=cvs-home-hero1-banner2-coronavirus-testing
Option #3: Consult your doctor for other testing options. Flu Vaccine: The California Department of Public Health strongly recommends that all students and staff be immunized each autumn against influenza, to help: Protect the school community Reduce demands on health care facilities Decrease illnesses that cannot be readily distinguished from COVID19 and would therefore trigger extensive measures from the school and public health authorities. Click the link for information on free flu vaccines in San Bernardino County:
https://wp.sbcounty.gov/dph/flu/fluclinics/
If you have any other questions please contact your child's school.

Before eating food at home or in public spaces, wash your hands with soap and water. It only takes 20 seconds and removes the germs from surfaces or objects you've touched. #keephandsclean Learn More -->
https://go.usa.gov/xV9TPexternal
icon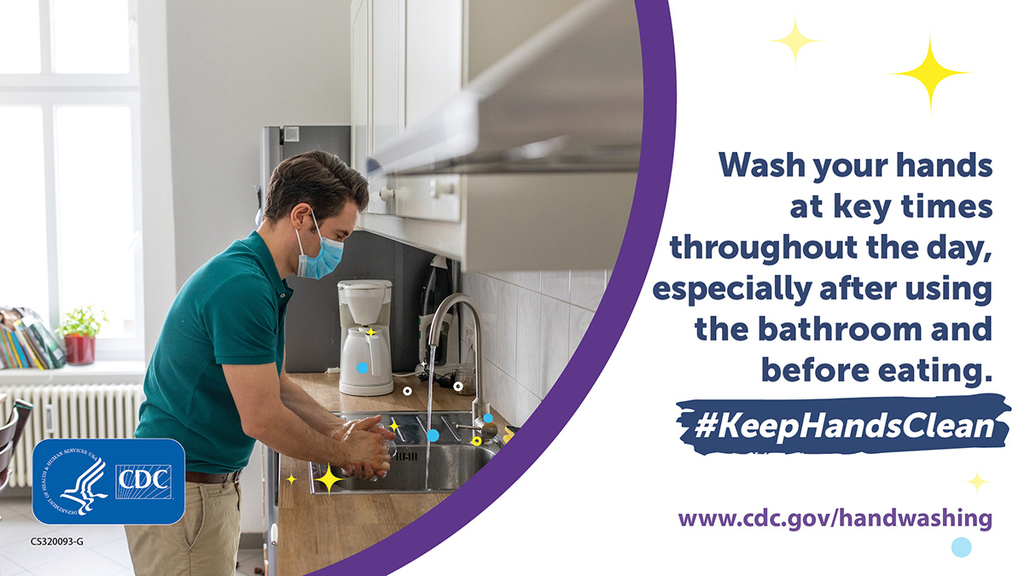 Greetings Rattler Families! We have some amazing resources and opportunities for you to support your children during distance learning. Click on the link below for webinars, learning opportunities, and more! Flyers -->
https://bit.ly/35iMjoN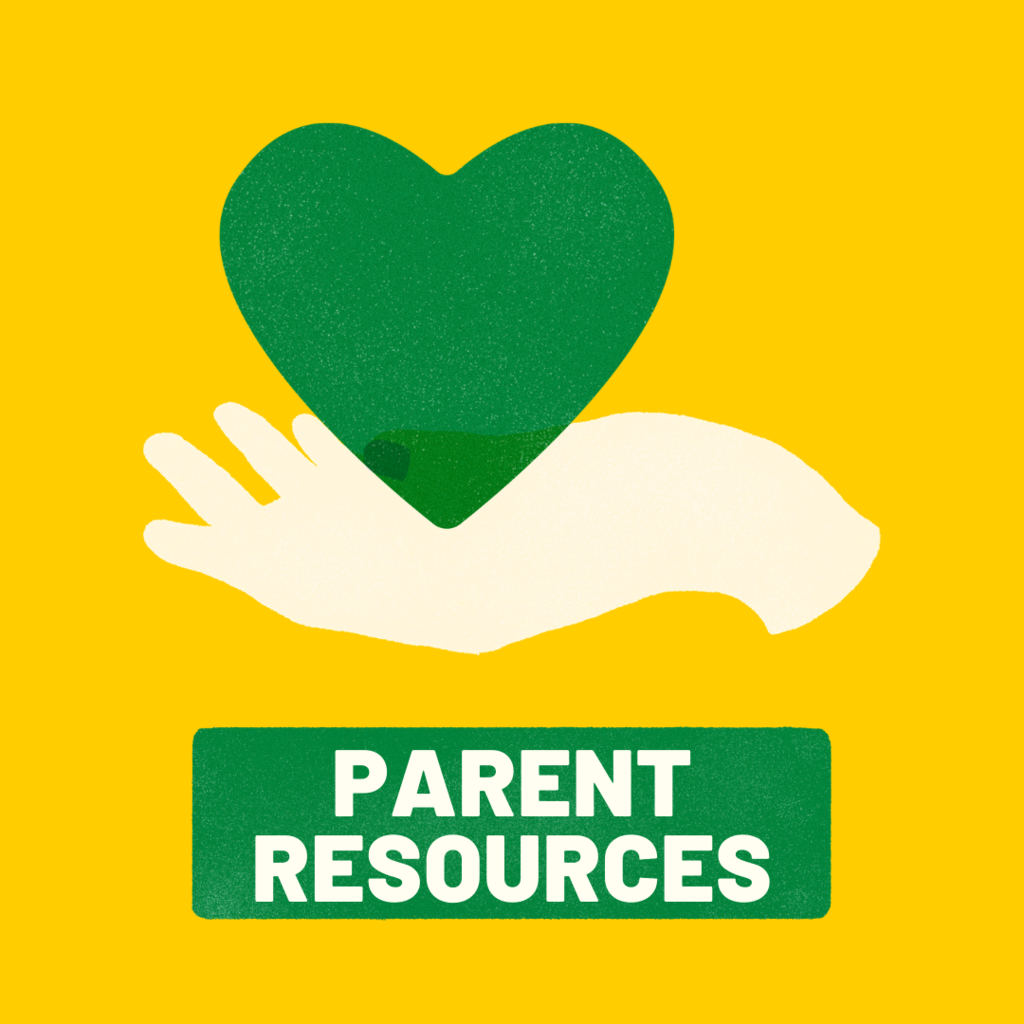 Germs are everywhere. Make handwashing with soap and water a healthy habit to protect yourself and your family from getting sick. #KeepHandsClean Learn more -->
https://go.usa.gov/xVQuDexternal
icon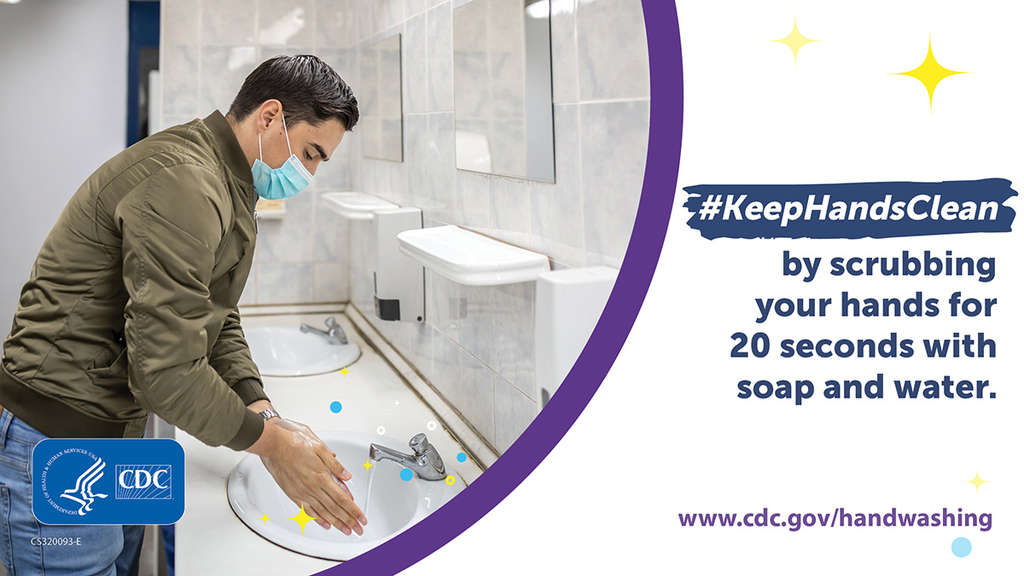 Rattler Families, Quarter 1 Progress Reports are being mailed home this afternoon. Please keep a look out for your student's over the next few days. You may also check your student's grades at anytime on Infinite Campus via the Parent Portal. If you have any questions please give us a call at 760-948-0175. Have a wonderful evening.

Come join us for our first even Trunk or Treat! Ranchero will be hosting a DRIVE THROUGH ONLY Trunk or Treat on Friday, October 30th from 6pm-8pm. Please feel free to dress in costume and come out to Ranchero for some Halloween fun. Per San Bernardino County guidance, people who are immune-compromised, who have pre-existing conditions, or are age 65 and older should avoid Halloween activities. Individuals who are feeling sick or believe they might have been exposed to COVID-19 must stay at home (isolate) and may not participate in these activities.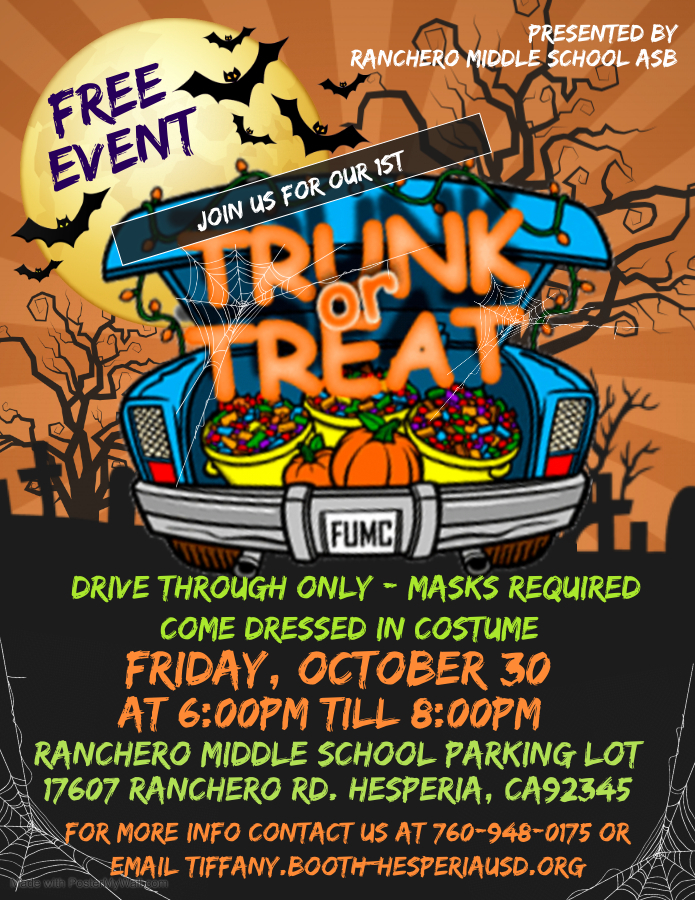 Good Morning Rattler Families, A few updates/reminders: - Next week is fall break. There is no school Oct. 12-16. We return to regular classes on Monday 10/19 - Today is the last day of 1st quarter. Progress report cards will be mailed out after Fall Break. We will send out a text the day they are mailed. - Students will no longer be taking their own attendance after the break. Attendance will be taken by teachers only. Please continue to encourage your student to attend all Zoom classes and complete assignments. Wishing you all a safe and restful break next week!

After fall break, students will no longer have the ability to check-in on Infinite Campus. Teachers will continue to take attendance based on the students that attend their Zoom sessions - so make sure that you are getting to class on time and attending every class!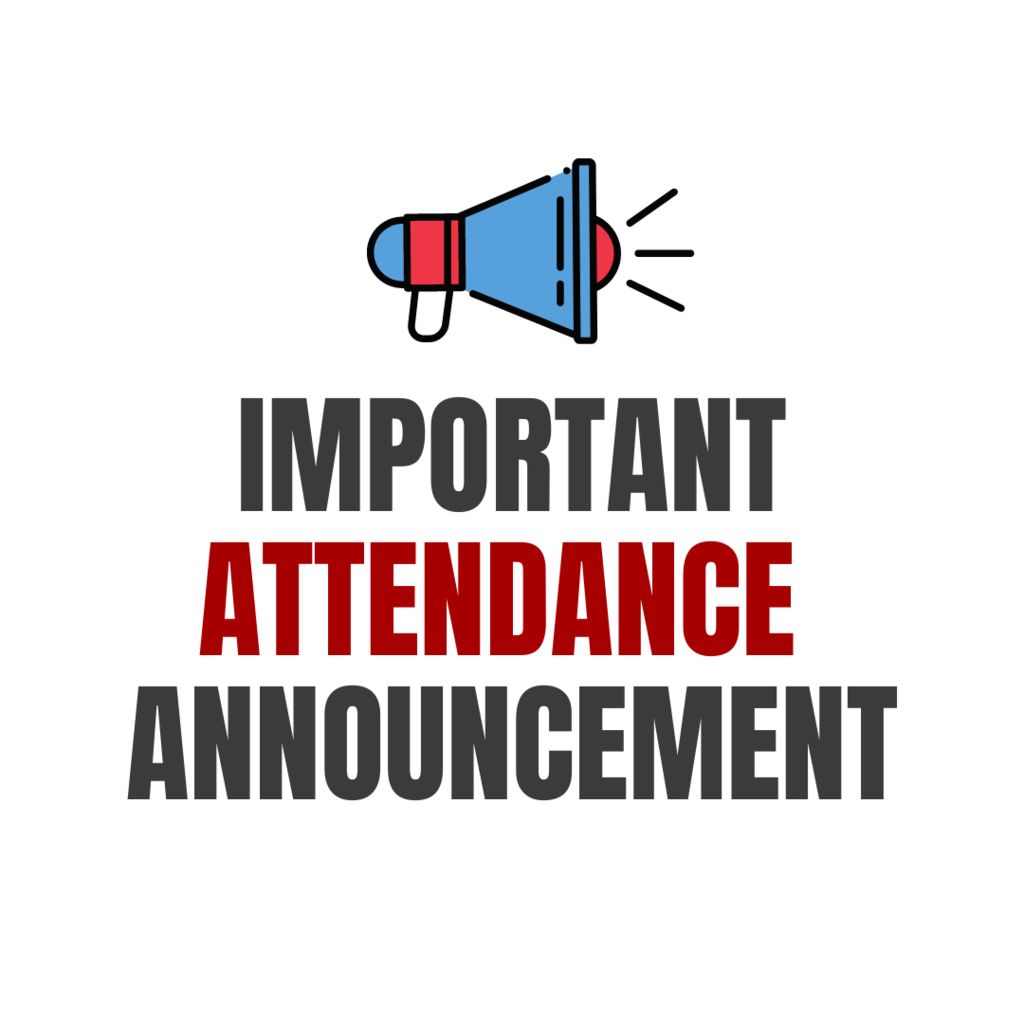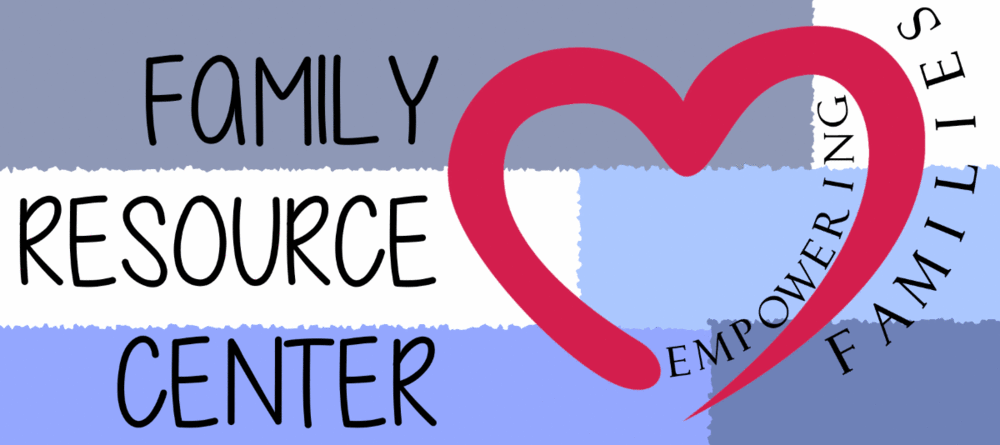 Good afternoon parents. Ranchero Middle School invites you to our first English Language Advisory Committee meeting on October 6 @ 9:30 AM via google meet. We will be using this time to go over the School Plan for Student Achievement, answer questions regarding distance learning, hold ELAC committee elections, and discuss topics for future meetings. You can find the link for the meeting below and on the Ranchero Middle School website Live Feed. We hope you are able to join us. Thank you for your time and have a nice afternoon.
https://www.google.com/url?q=https://hesperiausd-org.zoom.us/j/86887286225&sa=D&source=calendar&ust=1602353508171000&usg=AOvVaw3Nh05Q40XyDL1EujDI1xCX
Buenas tardes padres, la escuela de Ranchero Middle School los invita a nuestra primera junta del año escolar 2020-2021 de ELAC. Se llevará a cabo el 6 de Octubre a las 9:30 am via google meet. Vamos a usar esta oportunidad para repasar el plan escolar para el rendimiento estudiantil, responderemos preguntas sobre el aprendizaje a distancia, haremos elecciones del comité de ELAC y discutiremos temas para futuras reuniones. Pueden encontrar el código para la junta en la página de web de Ranchero Middle School. Esperamos que nos puedan acompañar. Muchas gracias y que tengan una bonita tarde.

Rattler Parents, Please see the attached flyer on an upcoming outreach day for families in need of books, diapers, formula and groceries.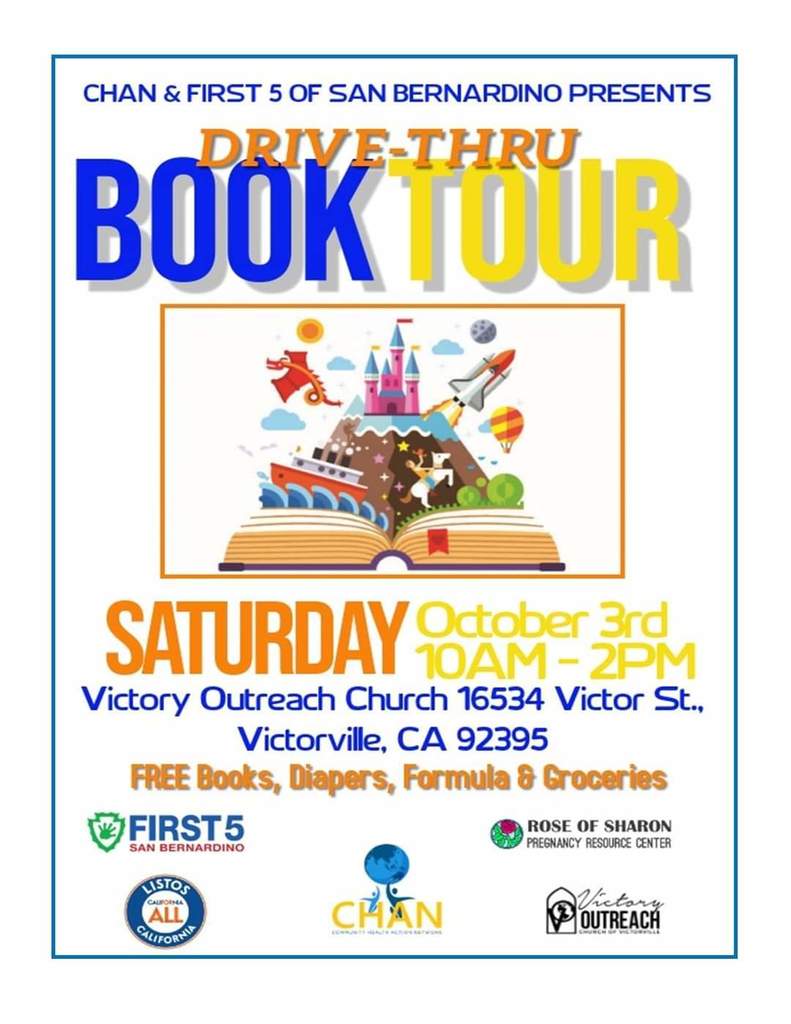 Rattler Families, An important reminder: Student supplemental supply pick up is happening THIS week 7th grade last names A-K- Monday 9/28 7th grade last names L-Z- Tuesday 9/29 8th grade last names A-K- Wednesday 9/30 8th grade last names L-Z- Thursday 10/1 Make up day- Friday 10/2 Times- 8:00am- 10:00am and 1:00pm- 3:30pm Students do not need to be present. Please have students: first and last name and student ID number.

Rattler Parents/Guardians, Please remind your student to checkin in on Infinite Campus tomorrow AND complete their assignments in Google CLassroom for ALL classes tomorrow and every Wednesday. Although there are not Zoom calls on Wednesdays, students will have assignments to complete for each class. Progress reports for D's/F's were mailed home last week. If your student is struggling please reach out to their teacher(s) and inquire about attending their intervention hours. We also have AVID college tutors available virtually that students can sign up for with the following link:
https://sites.google.com/hesperiausd.org/rms-distancelearning-20-21/student-resources/tutoring?authuser=0
We are here to help, please give us a call with any questions 760 948 0175

Our Nutrition Services Department still needs your input on meal service. Please fill out the brief survey here:
https://bit.ly/3ko9WRk

Good morning Ranchero parents/guardians, Voting is currently underway for candidates for Ranchero Middle School Site Council. If you would like to vote for SSC, please contact the RMS office before the end of the day on Friday 9/18/20 and a ballot will be sent electronically to you. Thank you for your participation.

No School Monday Rattlers!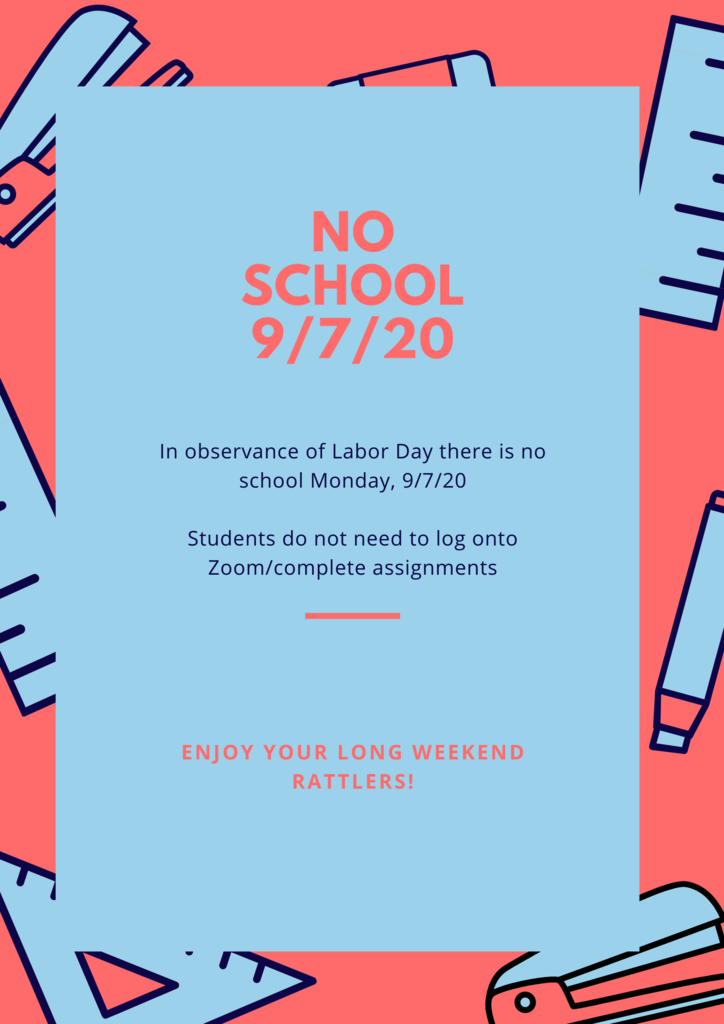 Rattler Families, Is your student struggling with any of their classes? RMS has college AVID tutors available to students during distance learning. Your student can visit the RMS Distance Learning website:
https://sites.google.com/hesperiausd.org/rms-distancelearning-20-21/tutoring?authuser=0
They will fill out the form located above and a tutor will contact them to set up a small group tutoring session during intervention times. All teachers also have small group intervention times built into their week. Your student can request (although if they have a D/F intervention is assigned) from their teacher to attend these sessions to get additional help directly from their teacher. We are here to help please feel free to give us a call with questions. 760-948-0175